WELCOME TO THE JULIAN PIONEER MUSEUM
The Julian Pioneer Museum houses an amazing array of artifacts depicting the history of Julian. Prior to the founding of Julian, native American villages were scattered throughout the area. Our Native American display is impressive. Historical artifacts throughout the museum provide a visual narrative of Julian history from 1869 to the turn of the last century. See how Julian labored, traveled, cooked and clothed . At eye level and from above, mounted animals, representing species to be found in Julian, are everywhere. Housed within the restored walls of the Treshil blacksmith shop, the Julian Pioneer Museum is the flagship of Julian history.
---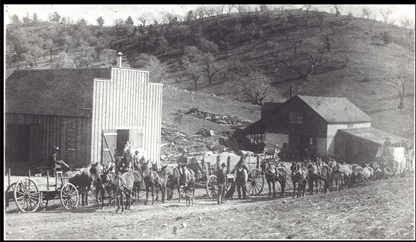 JULIAN CIRCA 1890's
Freight wagons entering Julian
The museum building is in the background. The wagons and mules are shown on what is now the modern highway into town.
---
The Museum is located at 2811 Washington Street (the corner of Washington and Fourth streets), just as you enter Julian on Highway 78.
Our phone number is: 760-765-0227
Our current regular hours are: 10am to 4pm Saturday, and Sunday.
*This museum is run by volunteers. Sometimes we are unable to open on our regular days. Call to confirm we are open…just in case. We do open by special appointment for schools, or other large groups.